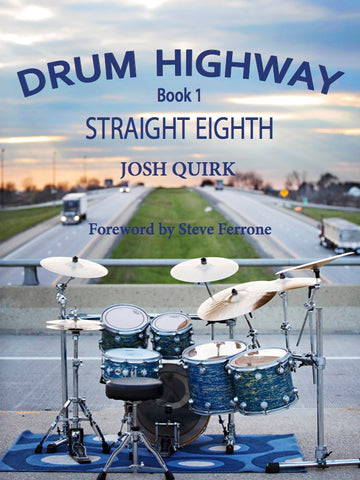 Drum Highway - Book 1 - Straight Eighth
Here is a review of the book from the January 2019 issue of Modern Drummer Magazine. 
Drum Highway Book 1: Straight Eighth by Josh Quirk
A progressive, strategic approach to learning the basics of popular drumming.
"If Drum Highway Book 1: Straight Eighth is any indication, then twenty-five-year industry veteran Josh Quirk (Viktor Krauss, Eddie Shaw) intends to present a comprehensive course in modern popular drumming. As the title here implies, this first entry focuses on a meticulous approach to mastering the basic 8th/16th feel that serves as a foundation for most pop. What makes Quirk's approach to this subject attractive for beginners and experienced drummers alike, however, is the presentation: patterns are built in strategic increments, requiring readers to master the building blocks of a groove before adding more difficult frills and finally seguing into syncopated variations on the original theme. This organizing principle quells that age-old woodshed frustration of discovering that basic structural problems in a complicated beat are causing it to lag or slur. Drummers who learn the instrument through the lens of Drum Highway will benefit from Quirk's methodical approach." (drumhighway.com) - Keaton Lamle

This is what world renowned drummers and educators are saying about Josh Quirk's Drum Highway: 
 "Josh's Drum Highway method shows the relationships and connections between different grooves and genres, and for a drummer, that takes you right to the heart of the music.  The method will also help you learn grooves and patterns with less effort."      
      --Steve Ferrone
Drummer for Tom Petty and the Heartbreakers, Eric Clapton, and many others.
 "Some drum books have clinical repetitive exercises based upon logical mathematical formulas. Josh Quirk's Drum Highway is not one of those! It's written by a real drummer and serious teacher. Josh's book will improve your drumming while adding to your overall musicianship. It's fun and it covers a lot of ground!
      --Peter Magadini
Author of Polyrhythms The Musicians Guide, Polyrhythms For The Drum Set, and
All-In-One: Learn to Play The Drum Set
 "Drum Highway is amazingly thorough! I think it's not only great for beginners but for advanced players looking to play open handed."
      -- Mark Walker
Grammy-award winning drummer and professor of percussion, Berklee College of Music